One for the Books: Diversity in the 2018 Midterms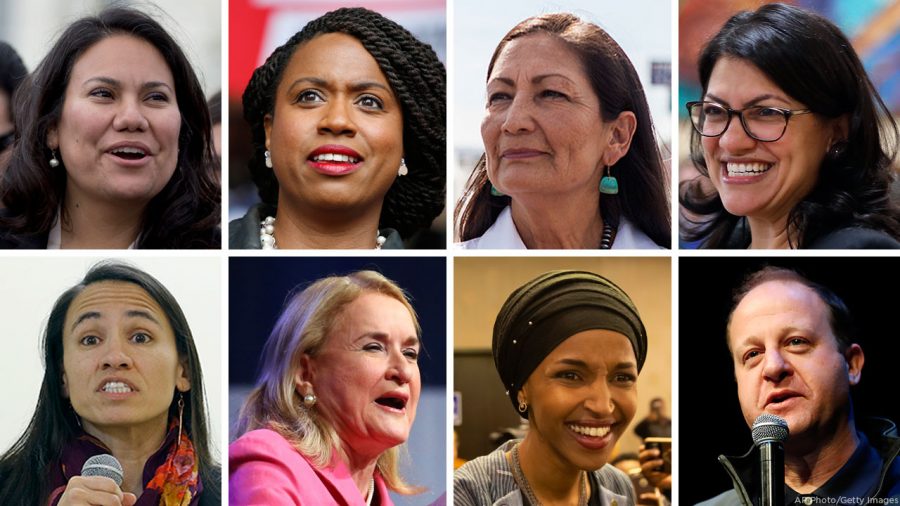 Candidates all across the U.S. made history at this past week's midterm elections, shattering the glass ceiling that has been a part of our government for far too long. Or, according to Ayanna Pressley, "When it comes to women of color candidates, folks don't just talk about a glass ceiling. What they describe is a concrete one. But you know what breaks through concrete? Seismic shifts."
Ayanna Pressley is Massachusetts' first black congresswoman. During her senior year of high school she was voted the "most likely to be mayor of Chicago" and was the commencement speaker for her class, according to Wikipedia.
Jahana Hayes is the first black woman elected to represent Connecticut in the House of Representatives. The Economic Times says that she was a teen mother and her mom struggled with a drug addiction growing up, yet Hayes went on to earn advanced degrees. She campaigned on strengthening the public-education system.
Jared Polis of Colorado is the first openly gay man to be elected governor of a US state. On his website, Polis said that he "believes that education is the single most meaningful investment America can make in its economic future and in its people."
Sylvia Garcia and Veronica Escobar will be Texas' first Latina women in Congress. About 40% of Texans are Hispanic or Latino, but voters had never elected a Latina woman to either chamber of Congress until now. "This election for me is not just about getting out the vote and defeating my opponents," Escobar said to NBC,"We want to send a very powerful message to Washington, D.C. that the border [community] will not sit on the sidelines during an era of unprecedented racism."
Rashida Tlaib is one of the first Muslim women elected to Congress to represent Michigan. According to CNN, "Tlaib is the daughter of Palestinian immigrants and became the first Muslim female member of Michigan's state legislature a decade ago. A self-styled progressive, Tlaib is a vocal critic of President Donald Trump and was arrested two years ago for disrupting a Trump speech in Detroit."
Ilhan Omar joins Tlaib as the first Muslim women elected to Congress, and the first to wear a hijab. "She's also the first Somali-American woman in Congress. Omar, who came to the US as a refugee in 1995, is set to represent Minnesota's 5th District after winning 78% of the vote.
Tlaib and Omar campaigned together earlier this year," according to Business Insider.
Sharice Davids is one of the first two Native American women elected to Congress as well as being the first openly LGBTQ person to represent Kansas in Congress. Davids is a member of the Ho-Chunk Nation, and she says on her website, "I am proud to call myself a Kansan. But I have been disheartened by the way our district has been represented in Congress. We deserve a voice who represents our values and interests."
Deb Haaland is the other Native American, a member of New Mexico's Laguna Pueblo tribe. She is quoted on her website as saying, "We need honest and proven leadership that is committed to serving New Mexico communities and the people of the First Congressional District of New Mexico. I would be honored to be that voice."
Lou Leon Guerrero is the first woman to govern the US island territory of Guam. Leon Guerrero is the president of the Bank of Guam. "We are extremely grateful for the opportunity given to us to make a positive change for all our people" Leon Guerrero said to the Washington Post.
Alexandria Ocasio-Cortez, 29, is the youngest woman elected to Congress in US history. In her campaign video, she said, "With a platform that calls for Medicare for all, tuition-free public college, a federal jobs guarantee, criminal justice reform, a green rebuilding of the nation's power infrastructure and the abolition of ICE, Ocasio-Cortez has crystallized the politics of a generation that is fed up with increasing inequality and the emergence of Trumpian authoritarianism," according to The Washington Post.
Abby Finkenauer also became the youngest woman ever elected to Congress; she will turn 30 in December. Finkenauer will represent Iowa and according to her website, "She believes that hard work should be rewarded, and that affordable education and determination should give every family the chance to live their American dream here in Iowa."
Kyrsten Sinema is be the first openly bisexual senator in US history as well as Arizona's first female senator and the first Democrat to be elected as a senator in Arizona in roughly 30 years. On her website, Sinema claims that her "commitment to service led her to the Arizona Legislature, where she passed a law to help veterans get in–state tuition at all Arizona public universities, cracked down on sex trafficking, and advocated for children's health care and education."
Following a disappointing presidential election, this year's midterms have brought a ray of hope to citizens across the country. "The Democratic Party has always made the biggest difference in the lives of the American people when we lead with conviction, principle, and bold, new ideas," said Former President Barack Obama, in a statement to NPR "Our incredible array of candidates up and down the ticket, all across the country, make up a movement of citizens who are younger, more diverse, more female than ever before."