The End of Semester 1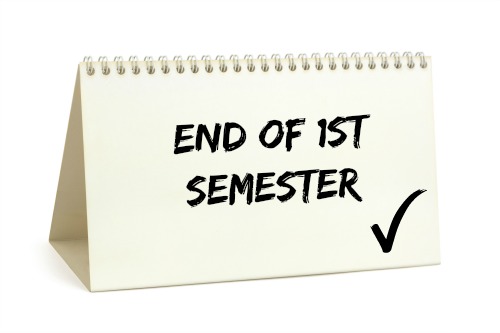 The end of semester 1 is coming! It's 2 weeks away, and grades are important. If you have grades that are low or if you have grades that you don't like, then you need to get them up, and talk to a teacher about it. If you have any missing assignments, you should still get them in. Even if it's not worth as much as you were hoping for, it's still worth points. Grades are very important so if your grades are slipping turn in as much work as you can to raise your grades up.
When it's the end of semester 1, there's no turning back. You won't be able to turn in any missing assignments or get your grade up. After semester 1 ends, all the grades you have at the end of semester 1 will be your final grades for that semester. However, at the end of semester 1 there will be a new start for Semester 2! Miss Steinback says to use "specific study skills, like highlighting important information, making time for studying and finding a quiet place, and speaking information out loud." Also Mikaylah Lopez, 9, says "I believe the most important thing about the end of semester 1 is the finals and whether you're passing your classes or not to receive your credit points. If you are failing and not passing and you are not participating in class, you would have to retake that class and finals will be a lot harder." So I highly recommend getting your grades up and turning in any missing assignments. We're almost halfway through the year, so keep your grades up.