Happy Hol-la-days!: A Holiday Music Guide
…because the holidays are incomplete without some festive songs to accompany them.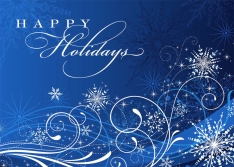 December has begun and it is time to start celebrating and planning for the holidays. For most, the holidays are a time of joy; they are a time to live life a little differently, even if it is only until January. Despite this, the holidays are also an extremely busy time of the year. People are going to various parties, shopping until they drop, and watching movies and specials until they tire of them. The holidays are a bustling and wonderful time no matter how they are celebrated, but it seems they are never complete without an assortment of holiday music. If a person does not have a holiday playlist, they find that quality holiday music can be difficult to search for. Luckily for Coronado students, there is a way to cease the struggles of creating a holiday playlist. Below are lists of songs for December's many holidays that will really make the holidays feel like home.
Christmas:
All I Want for Christmas Is You- Mariah Carey

Little Saint Nick- The Beach Boys

Wonderful Christmastime- Paul McCartney

Last Christmas- Wham!

Christmas Eve/ Sarajevo (instrumental)- Trans-Siberian Orchestra

Santa Claus Is Coming To Town- The Jackson 5

Feliz Navidad- Jose Feliciano

Rockin' Around The Christmas Tree- Brenda Lee

Blue Christmas- Elvis Presley

Underneath the Tree- Kelly Clarkson

It's the Most Wonderful Time of the Year- Andy Williams

It's Beginning To Look a Lot Like Christmas- Michael Buble

You're a Mean One, Mr. Grinch- Thurl Ravenscroft

Holiday- Vampire Weekend

I saw Mommy Kissing Santa Claus- The Jackson 5

I want a Hippopotamus for Christmas- Gayla Peevey

Jingle Bell Rock- Bobby Helms

Carol of the Bells a.k.a. Opera of the Bells- Destiny's Child

Do You Hear What I Hear- Carrie Underwood

It's Beginning To Look A Lot Like Christmas- Bing Crosby

Little Drummer Boy/ Peace on Earth- David Bowie and Bing Crosby

Mary, Did You Know?- Pentatonix

I'll Be Home For Christmas- Jackie Evancho

White Christmas- Gwen Stefani

Baby. It's Cold Outside (feat. Meghan Trainor)- Brett Eldredge

Santa Tell Me- Ariana Grande

Holly Jolly Christmas- Burl Ives

Winter Wonderland- Jason Mraz

Santa Claus is Coming To Town- The Jackson 5

Rudolph the Red Nosed Reindeer- Kacey Musgraves

Last Christmas- Ariana Grande

Silver Bells- Bing Crosby

Sleigh Ride- TLC

White Christmas- Michael Buble and Shania Twain

Thank God It's Christmas- Queen

Sleigh Ride- Recorded at Spotify Studios NYC- Miley Cyrus

Have Yourself A Merry Little Christmas- Judy Garland

Jingle Bell Rock- Hall & Oates

The Christmas Song (Merry Christmas to You)- Nat King Cole

Mele Kalikimaka- Bing Crosby and The Andrew Sisters

Shake Up Christmas- Train

Count on Christmas- Bebe Rexha

Christmas C'Mon- Lindsey Stirling and Becky G.

Merry Christmas, Happy Holidays- *NSYNC

Christmas Lights- Coldplay

Blue Christmas- The Lumineers

8 Days of Christmas (Live)- Destiny's Child

Have Yourself A Merry Little Christmas- Sam Smith

Santa Claus Is Comin' To Town- Bruce Springsteen

Hallelujah- Pentatonix
Hanukkah:
Hanukkah, Oh Hanukkah (Glee Cast Version)- Glee Cast

Happy Joyous Hanukkah- Indigo Girls

Hanukkah Dance- Woody Guthrie

Hanukkah oh Hannukah- Erran Baron Cohen

Dreidel- Don Mclean

The Hanukkah Waltz- Bela Fleck and the Flecktones

I Won't Be Home for Chanukah – TeamMate

Hanukkah Blessings- Barenaked ladies

8 Days of Hannukah- Sharon Jones & The Dap-Kings

Eight Candles (A Song For Hannukah)- Dave Koz
Kwanzaa:
Swahili Song- Teddy Greaves

Soul Rebel- Bob Marley and the Wailers

Festival Music- Malinke Singers

African Waltz- Cannonball Adderley

Burn That Candle- Jerry Fielding & His Orchestra

Youth Man- Culture

Traditional Blues- Bob Brookmeyer

Swahili Papa- The Springfields

African Ripples- Ralph Sutton

7 Days of Kwanzaa- Jennifer Ruth Russell
All of these songs can found on Spotify on their own; the link below is to The Cougar Daily's Spotify page, which will have these playlists on it for anyone interested in spreading some festive cheer. Happy holidays, Coronado, and enjoy celebrating all of the holiday plans that are on the way!
https://open.spotify.com/playlist/6uOvw7qLzrppL4aWlgIQkw
(Christmas)
https://open.spotify.com/playlist/4mxQ13xqU8xO3a2J8hrdFr
(Hanukkah)
https://open.spotify.com/playlist/1WW4ayZRlhF61Jv1Jf8dCe
(Kwanzaa)