Boettcher Scholarship Semi-Finalists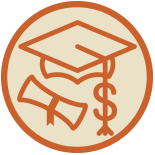 The 2018 Boettcher Scholarship semi-finalists have been announced, and we couldn't be more proud of our hardworking students! The three Coronado semi-finalists are Titus Sharman, Connie Sun and Diana DelValle.
The Boettcher Scholarship is a full-ride to any school in the state, which is an extreme privilege that very few get to take, so we are more than proud to have a number of those students attend our high school!  
The Boettcher Scholarship encompasses keeping grade point averages high and maintaining steady schoolwork. Mrs. Schulzki is the Gifted and Talented resource teacher of Coronado, and she helps these talented students apply for such scholarships.
"Although Boettcher has fairly broad requirements, it is a merit-based scholarship, so most students who apply, on average, fall within the top 5% of students in the school on the GPA. Students should achieve a 1200 or better on their SATs, and/or a 27 or better on their ACTS. Boettcher also considers students who have been involved and take on positions in areas in which they show leadership, community service, overcome obstacles, and show strong values and character."
The Boettcher Scholarship is considered the highest standard for scholarships in the state of Colorado. These three students have done tremendous amounts of work to be able to apply for Boettcher, and they're journey to the road of success still has quite a ways to go.
"Diana DelValle, Titus Sharman, and Connie Sun were chosen from over 1,400 Boettcher applicants in the state of Colorado.  These three students are now in a pool of 300 students who, based on their application and letters of recommendation, hope to be selected as a finalist. Finalists will go through a round of interviews with the Boettcher Scholarship committee to determine if they will be awarded the full-ride of all four years, the academic grant to be used at any higher learning institution in the state of Colorado."
Regardless of whoever wins the Boettcher Scholarship, Coronado is very proud to host the learning environment that enables its students to reach for high goals.
"Diana, Titus and Connie have all contributed to making Coronado a great school.  They seek challenge and change, and work hard to achieve their goals. They are all very amazing and talented representatives of the great student students we have at Coronado and we wish them the very best!"
Though the scholarship's competition is extremely rigorous, we are still extremely proud of these three wonderful Coronado students for working as hard as they have to achieve their aspirations. Good luck Diana, Titus and Connie!