AP Students: Best Those Tests!
All of the information regarding the AP Exams that has been released so far.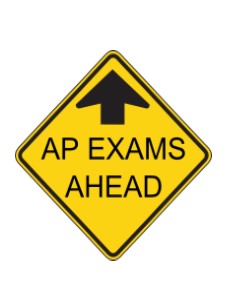 It is that time of the year once again; the time of the year in which teachers start ramping up the amount of AP test preparations in their classes to provide students with the ultimate amount of resources to use on said tests. This also means that students need to start thinking about how they will be preparing for said exams. Having a study plan and completing all of the necessary registration materials is essential, and scheduling is the best way to ensure that everything gets accomplished. Thankfully, a schedule of all of the tests has been released and is accessible for students to view.
AP exams will occur in May and will be taken in a strictly scheduled period of two weeks. There are no AP exams on the weekends, so students will have ample time to both relax and prepare for these tests when the time comes. The following information is the tentative schedule for the exams.
Week 1 (May 6th-May 10):
Monday Morning- U.S. Government and Politics
Tuesday Morning-Spanish Language and Culture
Tuesday Afternoon- Studio Art complete portfolios (Art Room)
Wednesday Morning- English Literature and Composition
Wednesday Afternoon- French language and Culture
Thursday Morning- Chemistry
Thursday Afternoon- German Language and Culture (pending, but not yet certain), Psychology
Friday Morning- United States History
Friday Afternoon- Computer Science Principles (Digital Art forwarded by Mrs. Schulzki)
Week 2 (May 13th- May 17th)
Monday Morning- Biology
Monday Afternoon- Physics C: Mechanics
Tuesday Morning- Calculus AB, Calculus BC
Tuesday Afternoon- Human Geography
Wednesday Morning- English Language and Composition
Thursday Afternoon- Statistics
Friday Morning- Microeconomics, AP Music Theory
Friday Afternoon- Computer Science A
Morning tests begin at 7:30 and Afternoon tests begin at 12:00. These tests will occur in various Coronado classrooms, the auxiliary gym, or  First Evangelical Free Church at 30th Street. Further details on the locations of each test and a more concrete testing schedule will be given at a later time.  
Students are able to take each AP test one time without having to pay for it, but must pay a fee of one hundred dollars per test if they wish to retake them.
Students must also register for these tests in order to take them. The registration period begins on January 22nd and students must register for their tests by February 26th. Students who plan to take AP tests for classes they have not taken must meet with a Ms. Schulzki and their counselor to apply and get approval from the AP board by February 6th. If students are late registering, they will be asked to pay a fifteen dollar late fee. If students decide not to take their tests before May 3rd, 2019, than they must pay a fifteen dollar return fee per test if they have already registered for the test. If they decide not to to take their tests after May 3rd, then they must pay a thirty dollar late fee. Any questions that students may have can be answered by the teacher of the AP class they are testing for or Ms. Schulzki.
This is also the last year for students in specific AP classes the qualify for the Legacy Grant, and this means that students will want to study hard and prepare for the tests in order to get a qualifying score. For more information on what the Legacy Grant is, the links below will answer any questions students may have; they also contain more information about these tests and anything a student will need in order to register for them. Ms. Schulzki will be going into classes to explain the registration process further as well within the next few weeks. Good luck with registering for AP Exams, CHS!
Links:
https://www.d11.org/domain/3860
https://www.d11.org/Page/10195
https://www.d11.org/cms/lib/CO02201641/Centricity/Domain/33/Good%20News%2011-10-2017.pdf
https://www.d11.org/cms/lib/CO02201641/Centricity/Domain/33/AP_letter_to_parents_and_students_2019_-_updated.pdf
https://www.d11.org/cms/lib/CO02201641/Centricity/Domain/33/2019_AP_Exam_Schedule.pdf
https://www.d11.org/cms/lib/CO02201641/Centricity/Domain/33/2018-2019%20AP%20Courses%20CHS.pdf