Softball's Stellar Season Successes!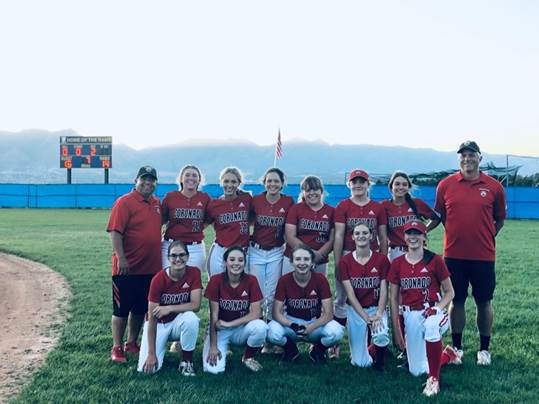 With the softball team's recent success, it is only fitting that we give another season update. The team, which has currently been sitting at nineteen and three has had a stellar season that is unprecedented in the since 2001. Furthermore, the mighty Lady Cougars are ranked 13th in the state and have been crowned Metro League Champions with their only losses coming against Fountain Fort Carson, Lewis Palmer, and Widefield. 
Regionals are coming up on Saturday, October 19th in Denver, and state will be on Saturday, October 26th Let's all do our part to wish the team good luck and be supportive in the halls, after school, and at any games! This late in the season, support is huge, so make sure to wish any player you see good luck and be supportive.
This incredible season that the team has produced has been attributed to having a group of young players that are extremely dedicated and talented. Hopefully this year's team will pass their knowledge on to future players, and Coronado Softball will have a lasting legacy in the league. On this matter, Jenna Ruggaber (12), pitcher and team captain said they have "a good young group of girls, and [they] are doing our best to show them the parts of the team."
Jenna also feels that the team will do well at regionals, and said that they have, " a very competitive team this year, and were going to keep on practicing and pushing each other harder while focusing on a lot of conditioning." The softball team is a group of extremely dedicated athletes that you can count on to give their best all game, all season.
This year, while the overall team has improved by leaps and bounds, the batting has gotten exponentially better, with the team average hovering around .300 and .400. The team's fielding average has been resting around .900 as well. 
So, in conclusion, If you have some free time on Saturday, go and support the Lady Cougars at regionals. Hearing a group of cheering fans (who are not exclusively parents), is incredibly inspiring. With such an amazing season so far, even if you don't go, be sure to give any softball player some support in the hall, and go Cougars!