Volleyball Ranked Sixth in State and Killing it at Regionals!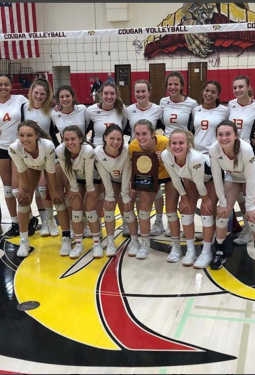 Coronado volleyball is ranked sixth in state! The team has worked very hard to get to this point and is headed to regionals November 9th to play against Holy Family and The Classical Academy at 10 A.M. 
This season, Stacia Smith,11, notices that "the coaching is going really well" and "we have really great players in every spot." Because of this, "[the team] has the upper hand [at regionals]."
The team has had a successful season and according to Makayla Brown,11, "[they] have gotten together really well" and "[had] a really good support system." At state, "we do have a really good chance at going to state."
Volleyball worked hard and was very successful at regionals and is now headed to state! Make sure to be there to support your cougars!