Finals Schedule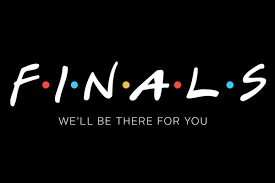 The 16th and 17th are regular schedules but 18th – 20th are finals. Here is the finals schedule cougars.
Dec 18-NO PLC LATE START and Final Exams for periods 1 through 3; buses depart at 12:50 pm
Dec 19-Final Exams for period 4&5: buses depart at 11:00 AM
Dec 20-Final Exams for periods 6&7; buses depart at 11:00 AM
Dec 23-Jan 7 – Winter Break – NO SCHOOL
Coming back on the 8th of January, it's going to be a Wednesday, though there is to be no late start as though it's a Monday.Remember to study hard and sleep well! Best of luck to all.