Seniors Last Day
As soon as the clock struck 2:55 pm, Seniors were officially done with high school.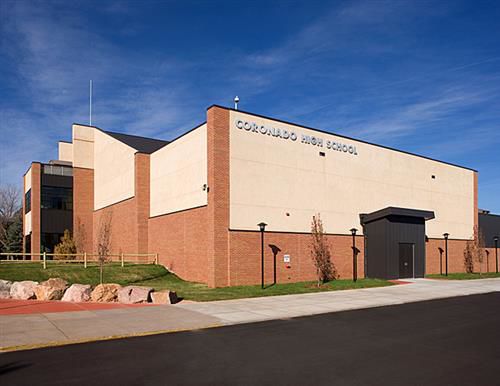 For seniors today is our last day of High School, and as our year comes to an end it is hard to believe that 4 years of school has led to this moment, finishing school either online in the comfort of our homes or socially distanced from our other peers in school. This year has definitely not been the most exciting exit to our years at Coronado. So much so that even though it is a somber feeling knowing we are done walking the Coronado halls after today, there is still a sense of having years left.
As the bell rings at 2:55 we are done with high school forever. This should be one of the more exciting and emotional days of our high school careers, yet if you are like me this day feels like an anticlimactic ending to a year versus the ending of a high school career. This year has been very different from years past, especially to seniors who have not been able to receive any of the perks that they would normally receive for being top of class. Stacia Smith, Senior, agreeing with that statement, said that "It does not feel different that this year has ended because we never really had a senior year to begin with." Stacia's statement is very relatable for all seniors but especially to those who may have started the year online and ended the year online. Oddly, without the regular social engagements and stimulation from our peers, this year has actually flown by. As day to day has also been more of a constant, lacking the regular seasonal event changes, it seems more as though the year has not fully come to an end. To top it off our last days have been filled with finals and snow, bridging more on a winter break as compared to the finish line.
As the final day drew to an end, seniors had to reflect on the time and effort it has taken to make it this far. Pushing aside the significance the pandemic has had on the conclusion of high school. Although the rewards may seem slim, seniors should take pride in what has been accomplished throughout the last four years years, not letting one single year define the entire journey. As seniors seek to fully comprehend that today was our last time sitting in a Coronado classroom, especially as so little of our year has actually been in a classroom, we should also seek to remember what uniquely made our Senior year ours. We seniors should take pride in the fact that we have survived the year of Covid, we stood tall has seniors and took advantage of what was offered to us this year and persevered through what was taken away, As we do, and as the gravity of being done starts to settle in, we can still look ahead to graduation and, thanks to COVID one last High School milestone!