Recognizing Westside Recipient Coach Bob Bell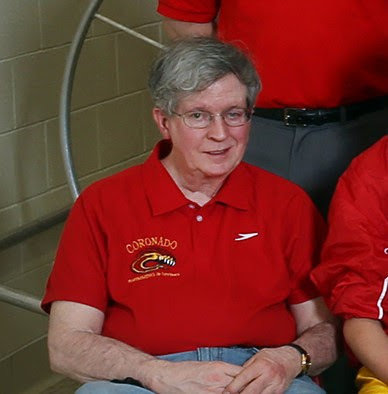 Bob Bell has been a constant part of Coronado High School's spirit, athletics, and community for more than 40 years. Coach Bell led the Coronado boys' swim team through hundreds of swim meets to 6 CSML titles and 43 state meets. He has been recognized for his amazing coaching by the Gazette, CSML, and other coaches over numerous years. Coach Bell hasn't only impacted Coronado swimming; his influence can be found in 30 years of teaching at Howbert Elementary, Jackson Elementary, and West Middle School.
Throughout his amazing legacy on the Westside, the one thing that Coach Bell values most are the countless relationships he made along the way. He started swimming in high school on a very large team with a great and personable coach; he continued on to start his long coaching career as a manager for Indiana University's swim team.
"I never thought I would coach that many years, but there's always a bunch of kids, who aren't juniors or seniors, that you develop relationships with," he explains, "I liked the interaction, students goals and wanting to be there … it's really neat to see the growth of those kids."
Coach Bell has lived and worked on the westside for years, and he notes that "The westside has a special feeling and community. I've had kids from twelve different schools swim for us. They knew they would be welcome."
Coach Bell is this year's Westside Recipient because of his positive and lasting influence on Coronado and the westside. From building homecoming floats to winning championships, he has been a pillar of the community for decades, and his relationships have impacted hundreds of students. He also wanted to include just a few of the people who have helped him along the way: Jim Henry, Mary Jackson, Terry Walsh, Donna Stevens, Jim Nash, Tim Keiser, Jenn Jacobs, and so many more.
From everyone at Coronado and everyone in the westside community, thank you Coach Bell!