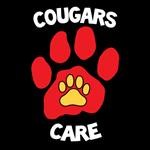 The Corner Market (room 160) reopened for the 2023-2024 school year on Thursday, August 24. It will be open every Thursday from 3:00 p.m. – 6:00 p.m. for the Coronado Community, and available to any student during the school day through a trusted teacher or staff member.
Cougars Care and the Leadership for Non-profit's class runs the Corner Market, supplying the corner market with school supplies, food, and clothing. With the upcoming Harvest of Love food distribution, Cougars Care has a lot to juggle and always welcomes a helping hand!
The Corner Market is a new, but vital resource for our Coronado Community. The hard work countless people have put into Cougars Care over the years has led to the current ability for Cougars Care to maintain this amazing resource that has a tremendous impact on our community. Mr. Urban, Spanish teacher and sponsor of Cougars Care, says, "The corner market is vital to support our Coronado community and their education."
The goal for the Cougars Care Board of Directors and Mr. Urban is for Cougars Care and the Corner Market to live beyond themselves, creating an infinite impact on the community.