Pickleball has been a huge growing and upcoming sport here in Colorado Springs and one of the fastest growing in the country. Lifetime Fitness kicked it off with its indoor courts, and as time went on, more and more courts were being built and renovated.
New courts include Springs Pickleball which is now the largest indoor pickleball facility with 9 indoor courts, Monument Valley has 15 courts, Banning Lewis has 10, and John Venezia has 4. As an athletic teenager, it's great to see all these new courts being built.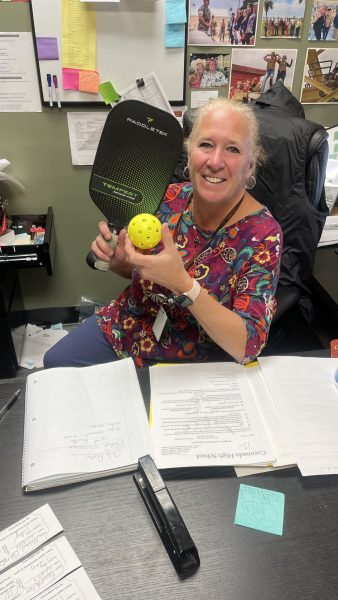 Lisa Kline showing off her game used paddle and pickleball.
Lisa Kline, Dean of Attendance at Coronado High School talked about her experience with pickleball and how she feels about it: "Several years back, my mother's neighbor introduced me to it when I was out visiting. I loved it and I became an addict, playing daily. Pickleball is a very social sport and [you can even] find a partner that plays at your level across the country." Pickleball brings a social aspect that encourages new players to join it.
Coronado decided to pick up on the pickleball spark by starting their own pickleball club. Previously started this past Sunday, November 12th, it was the first official start to the club. Anyone is welcome and there is not much to bring. Over the announcements at Coronado, for new players, Mrs. Kline said to need some water!
There are always going to be very different age groups when playing this game. Anyone can show up to the courts and see someone in their 60s and see a father and son playing together. It is an inviting game for anyone to play, and it is an easy sport to learn, but mastering it is one of the most challenging sports to master.
Pickleball at Coronado seems to rise after Sunday, and anyone is welcome to join!