Volleyball Defeats Rampart at Pink-Out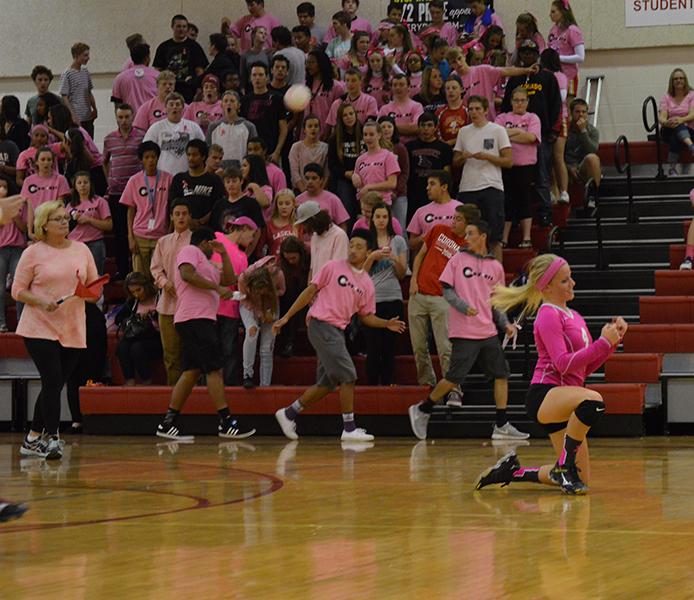 "We played with so much energy and as a team and [were] really… able to stick together to pull out the win," said captain Kaira Smith, 12. Following wins against Doherty and Fountain Fort Carson, Coronado volleyball defeated Rampart (8-7) at home on Thursday night in an eventful four-set match.
In a pink-bedecked gym packed with students, Coronado began Thursday's first set strongly, confining the Rams to 13 points. With the change of sides, the Cougars fell behind, dropping the second set 18-25. In the third set, bolstered by an active crowd, the Cougars rebounded, victorious 25-18, later pulling the fourth set to 26-24 for the win.
Rampart's defeat marked a new era in the Cougars' season, a third consecutive win for the team and a rebound from back-to-back losses at home against Liberty and Valor Christian on Sept. 29 and 30.
"Even though Maxpreps shows a loss, we were not beaten by the talent…Liberty [and Valor] brought to the court. We beat ourselves up mentally;…a mid-season slump…[only made up] for end of season success as we learn to overcome [adversity]," said Allie Garcia, 12. Thursday's win allowed Coronado to gain traction in 5A state rankings, as well as placing Coronado atop 5A Colorado Springs Metro League rankings (with a record of 11-4).
Major contributors to the Cougar effort on included seniors Kaira Smith and Madison Brown along with sophomore Mara Abernethy who combined for 27 of the team's 35 kills. Ashlynn Garcia, 10, garnered 4 aces and Jaelyn Hershberger, 10, secured 4 blocks against the Rams.
Another difference-maker in the Cougar effort? The 100+ Coronado students, staff, and parents that came to support the team.
Val Harvey, 10, said, "The cheerleaders really brought the crowd to life with excitement and an[d] encourage[ment]."  However, the focus of the night was not on the victory or crowd,  but the Coronado community's support for breast cancer awareness.
"… A Coronado family came together in their pink gear to show their support for a cause at the 2015 Dig Pink night," said Allie Garcia, 12. The volleyball program gathered more than $100 for breast cancer research through donations and cupcake sales from the pink-clad crowd.
The Cougars continue their crusade for the league title with away matches against Liberty on the 20 and Pine Creek on the 22 at 6:30.