MLB Playoffs: Astros Sweep Indians, Red Sox Win Three of Four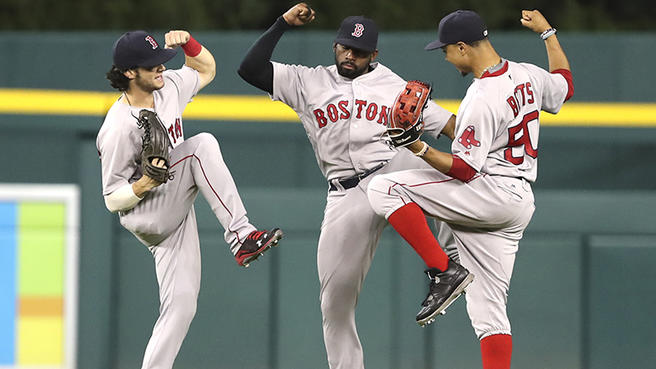 This past week, both the Astros and the Red Sox dominated their side of the Divisional Series.
  The Astros, the previous World Series Champions, showed they were in it to win it again this year as they swept the Indians with scores of 7-2, 3-1, and 11-3. Holding the Indians to six total runs in the series, the Astros had as dominant of a series pitching as you might be able to find, except for the Brewers in the NLDS. Poor Rockies. But this wasn't the only thing rolling for the 'Stros. Their bats were insanely good, capping off a well played series with an offensive outburst of eleven runs in the last game of the series. They would wait to see who they played in the Championship Series.
  The Red Sox were playing their longtime American League East rival, the New York Yankees in their series. They were determined to win, and they knew they were going to. They started off the series with a win, scoring five runs, and allowing four. They then proceeded to lose a game six to two as the Yankees tied up the series one a piece. The Sox would then have an offensive outburst, themselves, winning 16-1 to take the lead in the series. The next day, Boston won the series with a score of 4-3.
  Multiple Red Sox players were asked about how they liked seeing Chris Sale coming out of the bullpen. They all seemed to have the same response. "It was great," was the common theme from these players. Mookie Betts and J.D. Martinez, among others, exclaimed it was great seeing their lefty healthy and playing again, even if it is coming out of the bullpen.
  These two teams will face off in what I think will be the best series anyone has seen in a long time. Let's see which one sticks out the fight and makes it to the World Series.