MLB: Finally Back to Baseball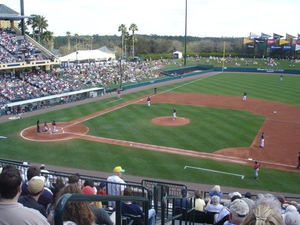 Hang on for a minute...we're trying to find some more stories you might like.
What's up, baseball fans! I know it has been awhile, but don't worry, because baseball is finally back! This offseason came with some really exciting headlines, and spring training has just started up. Headlines included free agent players such as Bryce Harper and Manny Machado being talked about on just about every sports station. You could not go anywhere without the question being asked about where these players were going to end up. So without further adieu, let's get right to it.
  The big talk over the baseball offseason had to be about Bryce Harper and Manny Machado, as well as what teams were interested in offering them a deal. Both players talked with teams like the White Sox and the Phillies. The Dodgers and the Giants were also in the running for one of these two superstars, but their offers would not be good enough. Manny Machado made the first move, signing a record 10 year 300 million dollar contract with the surprising San Diego Padres. Bryce Harper, of course, wanted to be offered more than this. When he met with the Phillies in Las Vegas, there was no doubt what team would get him. The Phillies and Harper agreed to an astounding 13 year, 330 million dollar deal. These were the two highest paying contracts in major league history, and we will see if these players can live up to the hype that their contract suggests.
       Of course, Spring Training has started up in both Florida and Arizona, all of our favorite stars getting back out on the diamond. We have already started seeing guys like Nolan Arenado of the Rockies, who also got a large contract in the offseason, and Alex Bregman of the Astros hitting home runs like they are in mid-season form. But then there are players like Clayton Kershaw, who will not be able to start Opening Day due to shoulder inflammation. And there are many players coming off injuries from last season, like Kris Bryant of the Cubs. But don't worry, Cubs fans, Bryant said that he feels like he is ready to go in the 2019 season.
  Baseball is finally back, and we can start to get ready for Saturday night games and Sunday day games on the couch. Opening day is on March 28, which is the earliest opening day in baseball history. Let's gear up, baseball fans, because baseball season is right around the corner, and it is going to be a crazy 162 game ride.