Kickin' Up Dust at State
The Track and Field Team recently competed at the state competition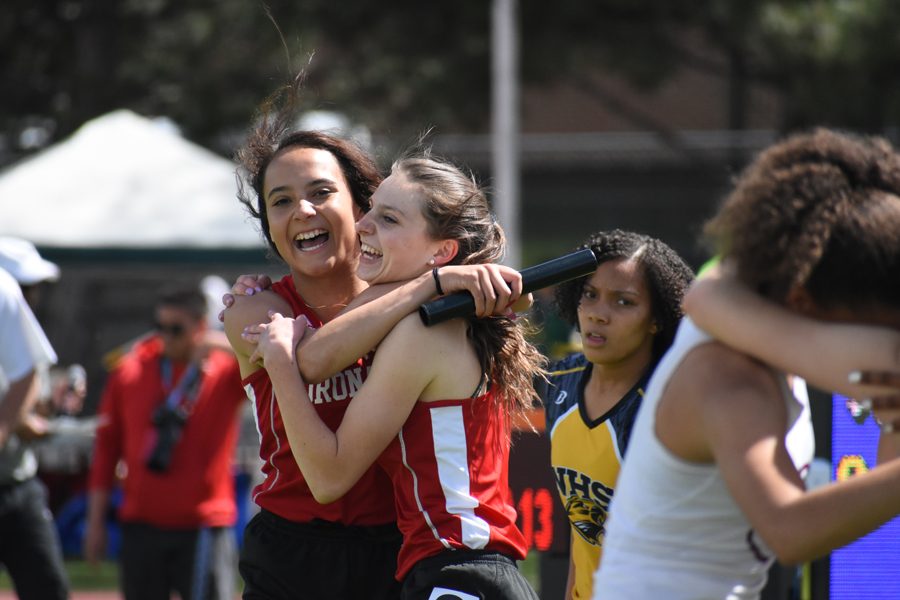 Coronado's Track and Field team performed extremely well at the state championship and all their hard work has paid off. Alison Ambuul (11) won a state medal in all four of the events she raced in and she is a two time school record holder; she had qualified in nine of the eighteen events, but state rules only allow an athlete to compete in four.. Overall, by the end of the long weekend the girls took 12th in state out of roughly 44-48 teams. It was a great finish to the season and all competitors continuously showed up and performed well. The results for the events are as follows:
In the 400 meter dash Alison placed 3rd with a time of 57.66 which broke the school record from 1986 and in the 200 meter dash she placed 8th. Jasmyne Terrones, Tinah Muhammed, Janae Israel, and Alison Ambuul placed 4th in the 4×1 meter relay beating a school record from 2009 with a time of 49.17. The 4×4 meter relay made up of Zoe Gross, Maddy Morland, Grace Abernethy, and Alison Ambuul worked together to place 6th in the race. Grace Abernethy, Faith Roth, Shauna Mackay, and Maddy Morland placed 13th in the girls 4×8 meter relay and in the same relay, Hayden Fields, William White, Charlie Schroeder, and Ben Swanson took 9th. Placing 12th, Jasmyne, Zoe, Nayo Afonja, and Janae competed in the girls 4×200 meter relay. Lastly, the sprint medley with Jasmyne, Tinah, Nayo, and Zoe took 8th place.
Individually, Tinah (10) took 5th in long jump and Nayo Afonja (9) placed 12th in the girls high jump event. In the girls 100 meter hurdles, Lexi Gutches (9) took 9th after a fall when she was in 5th place with just two hurdles left. As for the boys 110 meter hurdles, Ben Tonneson finished in 14th.  
The weekend was a success for the Coronado Track and Field Team, and they finished their season with a bang at the state championships. Make sure to congratulate the team before the school year comes to a close!