The Beginning of Football Season Update!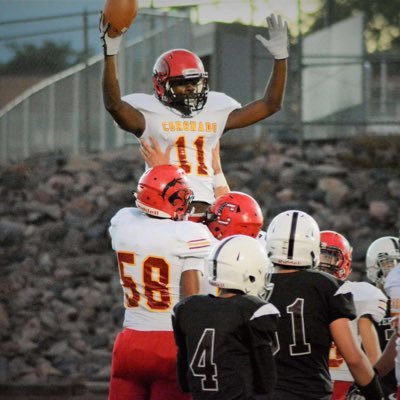 The Coronado football team is continuing to practice hard and has played four games so far this season! 
Their first game was against Cheyenne Mountain on September 2nd. Our cougars fought hard until the very end and unfortunately lost with a close score of 41 to 40.
Game two of the season was against Lewis-Palmer on September 13th. Our team played a great game but sadly lost to Lewis-Palmer 34 to 19. 
The next game was away on September 20th against Mesa Ridge with a score of Coronado-6 and Mesa Ridge-27 after a well-fought game.
Jayden Rempel,10, played first string quarterback for the majority of the game and ultimately played well and supported the team. LaDarius Mays played a great game with 137 receiving yards and broke two tackles to put the team in good field position.
Jaden Yoney, 11, thought "[the team] communicated a lot better" and "our defense had some good stops". He is hopeful for the homecoming game and thinks "we're [going to] do very well" and it's "[going to] be a good day".
The homecoming game ended with an amazing win for Coronado with a score of 40 to 26, giving the cougars our first win of the season! Our team worked together, played well, and earned an amazing win!
Their next game is a home game against Grand Junction Central at Garry Berry Stadium on October 4th at 7:30 P.M. Make sure to be there to support your cougars! A full student section encourages the team and builds school spirit!