Every year, millions of tonnes of CO2 are released into the atmosphere as a result of the mass industrialized meat-production industry. Millions of animals are bred and raised in a life of captivity just to be butchered and processed, deprived of a chance of life. In 2021 alone, 4.8 million acres of land in the Amazon rainforest were burned to make space for cattle herding.
The meat industry is leaving its stain on the world of today, but luckily individual consumers have the option to feel less responsible for this ecological disaster: vegetarian and vegan diets. Cutting meats out of one's life has never been easier. Meat-adjacent protein sources, such as faux meat and tofu, are the cheapest they've ever been while adequately filling the role of meat in diets, providing extra health benefits that a meat-centered diet doesn't offer.
Environmentally, becoming vegetarian (or vegan, or their derivatives) is one of the best things a person can do. Mr. Caleb Muth, the AP Biology and Environmental Science teacher and the Science Department Chair, says, "The environmental impact of meat diets compared to vegetarian diets is huge. A serving size of meat compared to a serving size of vegetables is linked to 20 times more greenhouse gas emissions. Consuming meat also takes 100 times the amount of land as consuming vegetables… A study done by the Universities of Minnesota and Oxford found, 'Producing a serving of processed red meat has the second highest mean impact on acidification, greenhouse gas emissions, and land use and the third highest mean impact for eutrophication.'"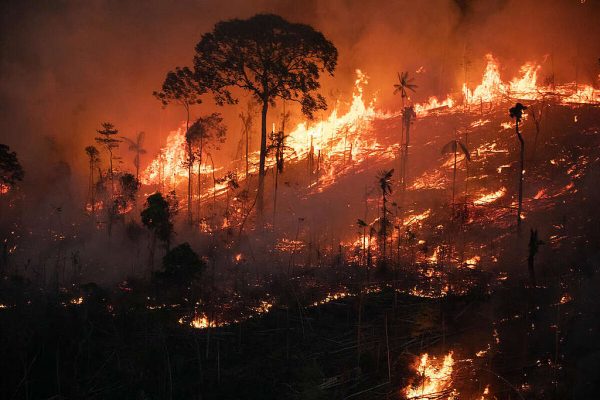 The Amazon Rainforest being burnt for grazing land.
Vegetarianism also gives many health benefits that a meat diet can't provide According to the American Dietetic Association, a large group of dietitian professionals dedicated to advancing dietary health, "appropriately planned vegetarian diets, including total vegetarian or vegan diets, are healthful, nutritionally adequate, and may provide health benefits in the prevention and treatment of certain diseases," and other health experts with Harvard Health agree. Mr. Muth added, "A well-balanced vegetarian diet can reduce the risk of many chronic diseases such as diabetes, obesity, some cancers, coronary heart disease, and high blood pressure."
However, cutting meat out of a diet is much easier said than done. After being asked if he would ever be vegetarian, Nick Townley, Class of 2024, said "I could never." The effort required to become a vegetarian, especially as an athlete, is just too much for what some people can handle, and that's okay. Meal planning takes significant effort that not everyone has the time for. Getting all the required nutrients without outside supplements can be difficult for someone who doesn't know what they're doing.
Vegetarianism is one of the best signs of defiance toward the current state of the industrialized world. It decreases one's personal contribution towards climate change (even though the individual does next to nothing to impact it) and has several health benefits that can't be found in other diets.