Danger at the Dam
Damage to the Oroville Dam poses possible danger to residents in and around the Oroville area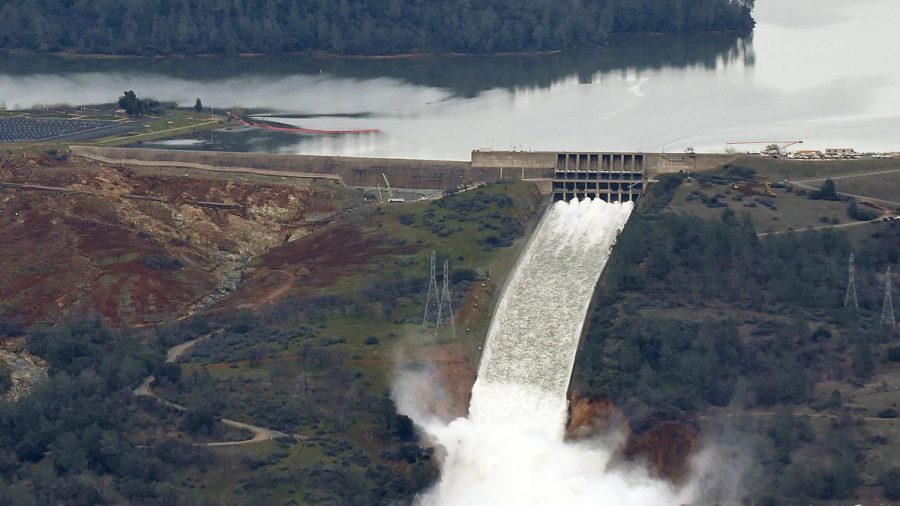 Sierra Meisner, Staff Writer
March 2, 2017
Residents of Oroville, California, are returning to their homes now that the evacuation order has been lifted. The dropping water levels at the Oroville Dam have significantly reduced the danger to residents, but some are still worried about the possible danger.
On 2/13, at least 118,000 people were placed under a mandatory evacuation notice in Oroville, California. This order was placed after growing water levels, increased due to abnormally heavy rainfall, damaged one of the spillways, the means of safely controlling water levels and releasing water, at a local dam. The Oroville Dam, one of the tallest dams in the United States, remains intact but the spillway continues to erode at an alarming rate, prompting concern from government officials and residents. If this continues, the water may cause the dam to overflow into surrounding communities, producing a nearly 30 foot wall of water.
Many of those evacuated viewed it as an inconveniencing and unnecessary. During the evacuation, people could not go to their jobs and lost out on multiple days of pay. Many residents were forced to get hotel rooms and food outside of their homes even though financially they could not afford such expense.
Although this issue does not directly affect Colorado, many of the students at Coronado are still worried about the situation in Oroville.  "It is clear that something needs to be done about this. It is the responsibility of the officials to be keeping the dam and the communities around it safe, and it is one that needs to be taken seriously," said junior Connor Strizich.
New storms are set to hit the area in and around Oroville, but officials are confident that the spillway will hold up. There are no official plans for the dam's reconstruction at this time, but there are local and state government meetings underway to discuss the fate of the spillway and the dam.