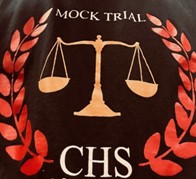 Mock Trial is the best team at Coronado, and that is NOT up for debate! With the 2023-2024 season ramping up, Mock Trial could use all the team members it can get! Have fun, argue, learn about law, and many other exciting things!
Mock Trial meets every Tuesday, 5:30 p.m. – 7:30 p.m. in the Coronado Library. They work through cases, bond as a team, and incorporate many other intriguing activities. Whether you are interested in law, like to argue, or just want to be a part of a well-knit team, Mock Trial is for anyone! Everyone is welcome no matter how much experience they have or what they are interested in.
Mr. Eden, College Counselor and Mock Trial Coach for Coronado, has been involved in Mock Trial for seven years. He has massively contributed to the continuation and longevity of Mock Trial at Coronado. He said, "I've learned a lot along the way so students with ZERO experience should not be discouraged to check us out if interested!"
"We are positive, inclusive, and our groups truly become family by the end of the season," Mr. Eden says. Spending countless hours together throughout the season, the team gets to know each other very well.
Melanie Jones, Class of 2024, has been doing Mock Trial for the past three years. "My friend Anna Cook [Class of 2024] was the reason I joined Mock Trial," she says. "Everybody that has joined seems ready for the season," Melanie says. The team has a strong foundation built from friendship turned partnership. This foundation has played a vital role in the success of the team and the incorporation of new teammates.
Last season, they were one spot away from the State Tournament. "My goals for this season are to make it to state at competition this spring; we have a lot of new people, so I want to make them feel as involved and passionate as about Mock Trial as I am," Anna says. With a "core group of returning members who are all very passionate and know a lot about the team… our core values for our team are passion, commitment, and collaboration," she says.
The team is hoping for a murder case this season; murder cases are always to die for. The entire team agrees that this new season is looking extremely promising, and they are all excited to get their official competition case in October. It's only a matter of time before Mock Trial gets their crime. Come on down and give Mock a shot!