This year, the Girl's Swim and Dive team is in much better shape to win League and even achieve an undefeated season. Preseason has wrapped up and the team is training for its first meet on November 28 against Doherty at home, so how are the swimmers and divers feeling about it?
In a previous interview, Coach Nathan Holm stated he was looking forward to a much larger team this season, and it looks like he has gotten his wish. This year, there are over ten new swimmers, determined and working hard to better themselves and their skills. Priya Frank, Class of 2026, a freestyle swimmer on the team who has been swimming for Coronado for two seasons, said, "We have a lot of new potential through our newest swimmers, whether or not they have [swum] before…. Our swimmers seem excited about swimming and ready to commit to the work that swim requires, which is good to see."
Many of the older swimmers would agree with Priya, as they all work hard to help the new swimmers understand and learn new things, including basic terminology and many of the unfamiliar sets that they will do later in the season. According to Priya, "it helps so much to have a team that is there to encourage you, push you, and understand your struggles. … There is never a situation where you would feel guilty about being last in your lane, or swimming slower."
For swimmers still learning strokes like butterfly, an exceptionally complicated stroke, or rotary breathing, a difficult skill to master quickly, the encouragement and support is key to improving. Because, in high school sports, the entire purpose of practice and meets is to improve and hone skills while keeping fit and healthy. Nobody is expected to be perfect, and nobody is.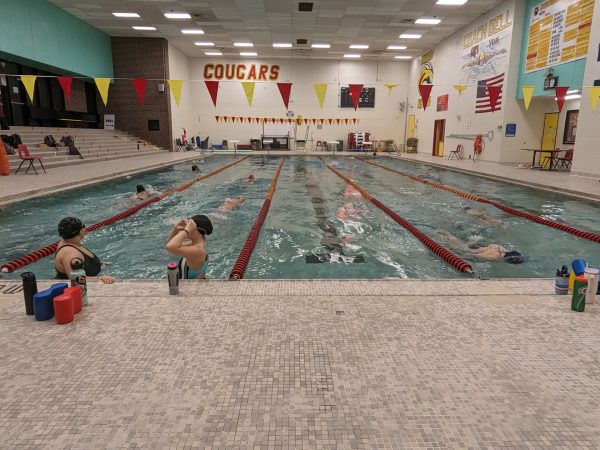 The diving team also saw an expansion this year, with two new potential divers alongside previous divers like Peyton Rice, Class of 2024. Peyton, a senior diver this year, stated her excitement for the next season: "[W]e have a lot of strong girls who are excited to swim and dive," also adding that the new divers "have already grown just in preseason! [S]o I hope [the team] can send all of them to meets this year!" An exciting goal that, from the looks of how the swimmers and divers were following the end of preseason, will be accomplished.
What are the swimmers' goals this year? To understand the hard work the swimmers put into the sport, it helps to know what their goals will be; it is exciting to watch them attempt to achieve them and see all the work they put towards that goal. Priya Frank's goal, for example, is to "break 30 on my 50 freestyle, as well as get my 100 fly closer to a minute. If I get put into A relays [I'd] also like to go to state." For people who do not swim, the concept of completing a 50-yard freestyle in under 30 seconds sounds extremely difficult, and it is – only going to show the determination common throughout the team. Peyton's goal for diving is to "go to state!"
Priya also added that "swimmers don't get enough recognition. It's a hard sport, but I can guarantee you that our swimmers who have been swimming for a while can tell you that even through the pain you will never ever regret swimming with this group of amazing women." The support you can give to the team will help them achieve their goals, so please look for upcoming home meets to come and support the exceptional and hardworking Coronado Girl's Swim and Dive team! It means the world, and it will help them succeed by cheering them on!